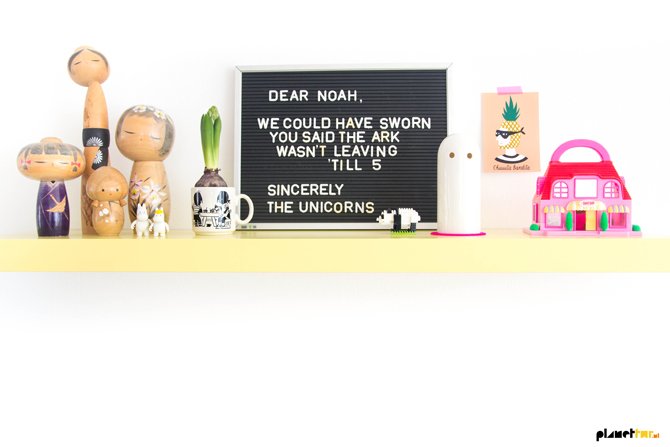 Ik denk dat de hertentrend serieus aan de kant geschoven is door een eenhoorntrend. Toen ik mijn Etsy shop nog actief runde (het is nu in een soort van limbo, door chronisch tijdgebrek), verschoven de bestellingen met de jaren langzaam van hertenhoofdjes naar eenhoornhoofdjes. Ik vraag me af waarom we ineens zo van eenhoorns zijn gaan houden. Zou het komen omdat ze ons weer 10 doen voelen? Omdat we, ook al verzetten we ons ertegen, toch stiekem aan het begin staan van een jaren '80 revival? Ondanks dat de jaren '80 creatief gezien vooral heel veel quilty pleasure achtige muziek voort hebben gebracht, maar ons esthetisch gezien niet echt vooruit hebben geholpen (schoudervullingen! hoog haar! woeste pastelstrepen!)? Het zou op zich logisch zijn, aangezien we de jaren '50, '60 en '70 inmiddels revivaltechnisch gezien gehad hebben. Ikzelf kocht recent een extreem hysterische jaren '80 dekbedhoes, wat compleet was geweest in al zijn jaren '80 tackyness als er geairbrushte eenhoorns op hadden gestaan. Nog even en we gaan massaal onze kamers weer behangen met regenboog-, glitter-, Troetelbeertjes- en eenhoornbehang, wat ik je brom!
Voor het zover is, of als je gewoon alleen van eenhoorns houdt, dan heb ik goed nieuws voor je: vanaf vandaag kan je op Oh Marie! (mijn andere dagbesteding ;)) gratis een geweldige eenhoorn desktop downloaden, ontworpen door Meike van Team Confetti. Waarom? Om iedereen te bedanken voor zijn support in de anderhalf jaar dat Oh Marie! nu bestaat. En omdat ik het vermoeden heb dat veel Oh Marie! lezers ook dit blog lezen. De desktop is beschikbaar voor SmartPhone, Tablet en PC, dus je kan helemaal los gaan met downloaden wat mij betreft. O en voor ik het dus vergeet: bedankt allemaal, voor jullie steun!
(En op zoek naar meer leuke quotes? Ik vond er meer in deze webshop op Etsy…ge-wel-dig!)
I think the deer have officially moved over to make way for a unicorn trend. When my Etsy shop was open (but even now it's kind of in limbo), people went from ordering deer heads to mounted unicorn heads. Why are unicorns so hot I ask myself? Do they make us feel 10 again? Is it the 80s that are finally getting popular again, like the 50s, 60s and 70s revival we had? And even though the only good thing (creatively speaking) that came from the 80s in my opinion is a lot of guilty pleasure music, I recently catched myself buying this very hysterical 80s duvet cover that would have been complete in all its 80s tackyness if there were galloping airbrushed unicorns on it. It won't be long before we're covering our walls with pastel rainbows, Carebears and unicorns again people…mark my words!
For those who share this love for unicorns I have great news: over at Oh Marie! you can now download your own unicorn wallpaper, designed by Meike of Team Confetti. It's designed especially for Oh Marie! readers to thank them for their great support over the last year and a half and since I have this feeling a lot of people that read this blog are Oh Marie! fans too, I thought it would be nice to give you a heads up. You can download it for your SmartPhone, Tablet and PC, so knock yourself out! Oh and before I forget: thank you all for your wonderful support!
(On the lookout for more funny quotes? I found a lot more of them in this Etsy shop!)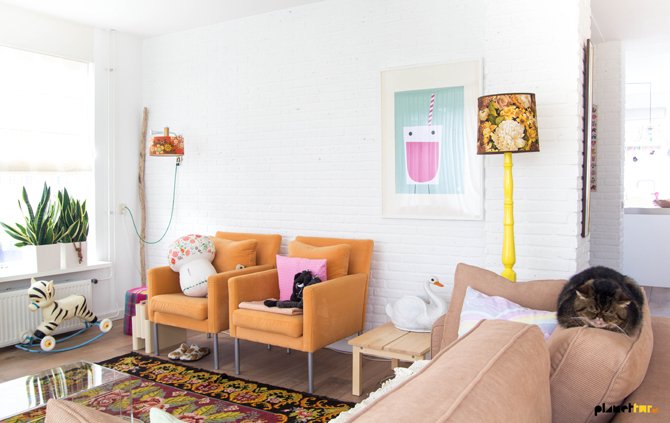 https://www.ohmarie.nl/wp-content/uploads/2016/10/logoohmariehr.jpg
0
0
Marlous
https://www.ohmarie.nl/wp-content/uploads/2016/10/logoohmariehr.jpg
Marlous
2014-01-23 11:00:30
2014-01-23 11:00:30
Move over deer, we want unicorns!