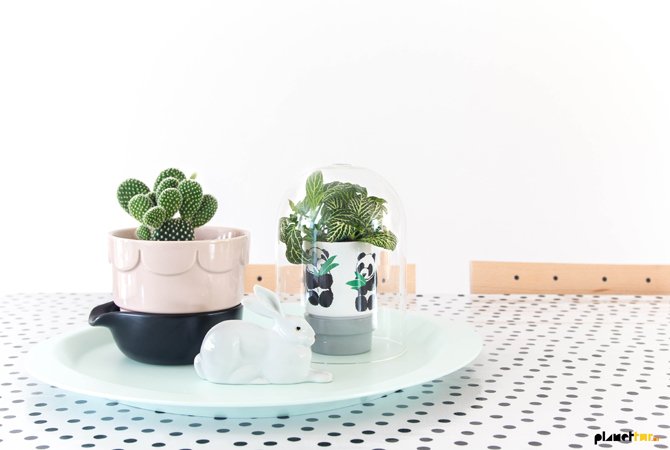 Wijze woorden van Edgar Allen Poe, want naar mijn mening is de combinatie mooi met een beetje raar een hele mooie. En als iemand wat van die combinatie af weet is het Allen wel, met zijn gedicht over Annabel Lee. Wat een vreemd gedicht. Mooi, maar vreemd. Maar ik dwaal af.
Zoals dat vaak gaat als je één of twee dingen verplaatst in je woonkamer, eindig je met een ruimte die bijna volledig opnieuw ingericht moet worden. Deze situatie werd recent bij mij veroorzaakt door de best wel erge pandamok die ik bij de kringloop vond. (Voor nog geen 40 cent, wat hopelijk voor me pleit.) Ik wilde 'm persé een plekje geven en toen dat niet in de bestaande stillevens in de woonkamer lukte, ging de hele boel dus overhoop. Die vermaledijde panda's vormen nu een beetje een vreemde combinatie op onze eettafel. Ook mooi maar vreemd. Erg jammer dat ze niet met een glijbaan kwamen trouwens, zoals deze zachte vriendjes. Voordat je op de link klikt wil ik je waarschuwen: er bestaat een kans dat je sterft aan cuteness overload en regelrecht naar de pandababy hemel gaat. Wat, nu ik erover nadenk, eigenlijk best tof is. Fijn weekend allemaal!
I'm using mr. Edgar Allen Poe's words here, 'cause in my opinion the man is very right about that. (And he could know, since he wrote 'Annabel Lee' and that's a very strange poem. Beautiful. But strange.)
So, I started to shuffle one or two things around in the house and (as usual) ended up with an immensely cluttered living room where every corner needed to be redecorated. This whole situation was caused by this silly 40 cent panda mug I thrifted last week. Initially I wanted to integrate into one of the existing stillives in the living room, but when that didn't work out, I ended up monkey shuffling the whole space. So, here they are, those doggone panda's. Forming a slightly strange but beautiful stillife on our dinner table. Too bad these panda's didn't come with a slide, like these fluffy fellows. Before you click, I should warn you: there's a risk of dying of cuteness overload when you watch this clip. Die and go to panda baby heaven, that is. Which isn't that bad now I think of it. Have a happy weekend y'all!
https://www.ohmarie.nl/wp-content/uploads/2016/10/logoohmariehr.jpg
0
0
Marlous
https://www.ohmarie.nl/wp-content/uploads/2016/10/logoohmariehr.jpg
Marlous
2014-10-10 22:45:08
2015-03-10 15:29:39
There is no beauty without some strangeness