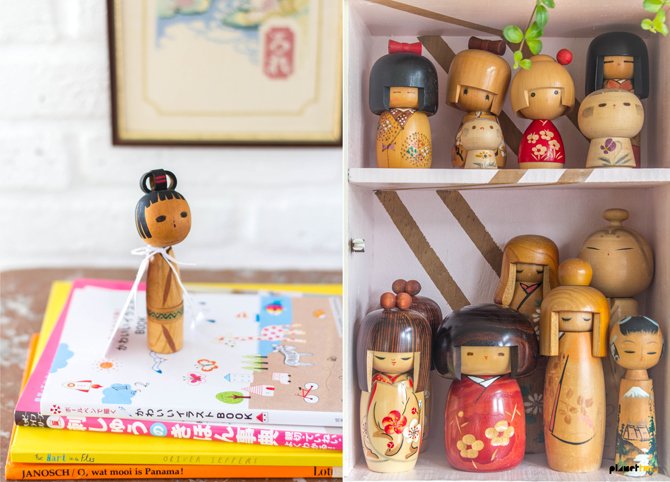 Door mijn zwangerschap en -verlof ben ik tijden niet in Rotterdam geweest, maar afgelopen week reisde ik er voor het eerst weer naartoe om Diana te spreken. Nu alle fysieke ongemakken achter me liggen en ik weer kan doen wat ik zo graag doe (en daar ook het bijbehorende humeur bij heb), was het best een beetje emotioneel om die route weer af te leggen. Vrolijk emotioneel, niet huiliehuilie emotioneel. (Na het krijgen van mijn kind ben ik keihard in een vrolijk weekdier verandert, zoveel is wel duidelijk.)
Diana gaf me, om deze letterlijke en figuurlijke terugkeer te vieren, het mooiste (symbolische) cadeau: een kokeshi popje. Een kokeshi popje met een hipster knotje, om precies te zijn. Ze symboliseert de start van de nieuwe plannen die ik aan het maken ben. Plannen waarmee ik hopelijk mooie dingen maken kan, een leuke moeder kan zijn en waarmee ik ook nog genoeg slaap kan krijgen. We gaan het zien!
Last week I visited Diana in Rotterdam again, after my super-long pregnancy/maternity break. Now that I have left all those pregnancy related inconveniences behind me and can do what I love so much, it was a bit emotional to travel those miles again. Emotional of the happy kind, that is. Not the hysterical sobbing kind.
To celebrate me being back in business, Diana had the most beautiful gift for me: a little kokeshi doll. A kokeshi doll with a hipster bun, to be exact. She symbolizes the start of making new, fun business plans again. Plans that will hopefully make me able to create beautiful stuff, be a good mum and get enough sleep. We'll see. To be continued!
https://www.ohmarie.nl/wp-content/uploads/2016/10/logoohmariehr.jpg
0
0
Marlous
https://www.ohmarie.nl/wp-content/uploads/2016/10/logoohmariehr.jpg
Marlous
2014-10-08 21:03:43
2014-10-08 21:03:43
Hi doll!