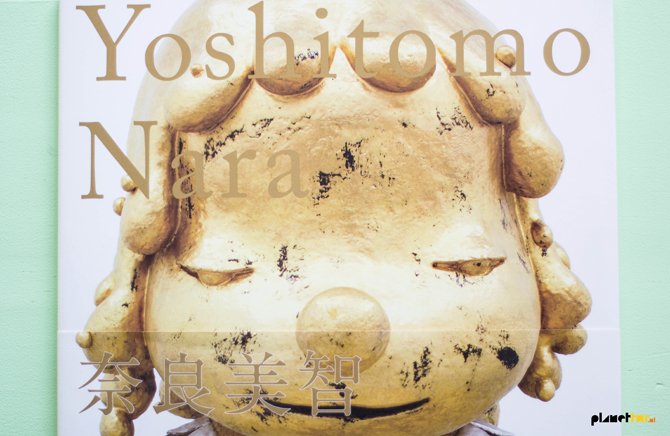 "Being a beginner, I decided beforehand not to even attempt to make them turn out perfectly. In return, this, not pursuing perfectness gave me a joy of accepting everything as a great gift at the very moment of opening the kiln's door."
Wijze woorden van de maker van dit prachtige keramiek, Yoshitomo Nara. Ik vond zijn tekeningen altijd wel leuk, maar ze trokken me niet aan zoals deze objecten me aantrekken. Ik vond het boek geheel toevallig in de afgeprijsde boekensectie van The American Book Store in Amsterdam. (Ook in 'reguliere' winkels ben ik gek op rommelhoekjes, al dan niet met korting.) Ik vind deze werken zo prachtig geabstraheerd: Nara heeft zijn ontwerpen naar een prachtige eenvoud teruggebracht. Wat overblijft is een gezicht, ogen, neus, mond, haar…zonder opsmuk. Om nog maar te zwijgen over het palet van de werken in simpel wit, grijs, bruin(ig) of goud. Misschien was hij in zeker zin gedwongen tot het teruggaan naar de basis door de afmeting van de werken of omdat deze werkwijze geheel nieuw voor hem was. Maar misschien ook niet. De man is best briljant, immers. Het maakt mij niets uit, ik vind ze hoe dan ook prachtig.
Wise words by the maker of these beautiful ceramics, Yoshitomo Nara. I kinda liked his drawings, but wasn't drawn to them the way these ceramics do. I got the book quite coincidentally: I found it at the discounted book section at The American Book Store in Amsterdam. I love the way Nara 'deduced' his work to just a couple of lines: just a face with eyes, nose, mouth, hair. I also love the natural palette of the works: plain white, grey, brown(ish) or gold. Maybe he was forced to do so, because of the size of the works and because he was entirely new with the making process. Or maybe not, the man ís kind of a genius. I don't care really, I think these are awesome.
https://www.ohmarie.nl/wp-content/uploads/2016/10/logoohmariehr.jpg
0
0
Marlous
https://www.ohmarie.nl/wp-content/uploads/2016/10/logoohmariehr.jpg
Marlous
2013-10-17 10:34:22
2015-08-31 17:40:25
Yoshitomo Nara ceramic works