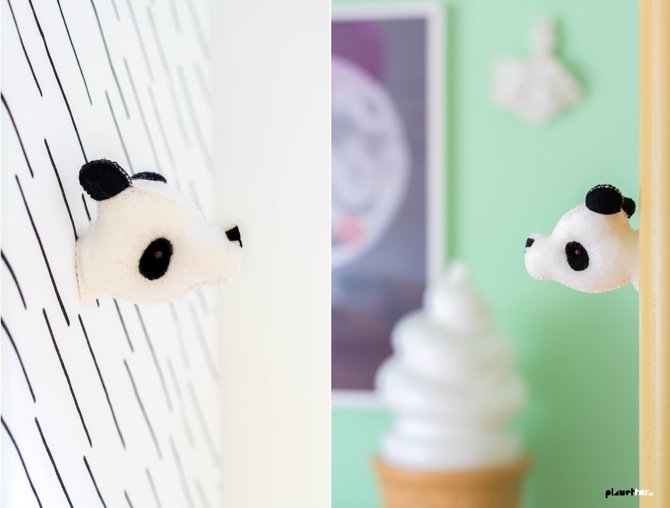 Mijn Etsy shop moet momenteel de Meest Verwaarloosde Webwinkel ever zijn, maar met kind, bedrijf en andere dagelijkse beslommeringen kom ik simpelweg niet aan het maken van bestellingen toe. Maar nu de kledingkast van mijn kind vol lijkt te sluipen met panda's, raakte ik zowaar geïnspireerd om Kleine Beer om te bouwen tot Kleine Panda. Ik heb best zin om er nog een paar extra te maken, dus als je 'm leuk vind, mail me dan even op info[at]ohmarie.nl. In zijn nek zit een hele sterke magneet, zodat je 'm aan allerlei plekken ophangen kan. (Zoals de achterkant van de verwarming. Of de motorkap van je auto. Of je lockerkast. Mogelijkheden te over!) Eventueel kan ik er ook een lusje aan maken waar je 'm mee ophangen kan. Hij kost € 25,- excl. verzenden.
Morgen maak ik deel uit van Anki's bloggersteam in het DDW bloggerscafé. Ik beken tot mijn schaamte dat ik de DDW nooit eerder bezocht, dus ik ben heel benieuwd naar al die heerlijkheden. Misschien tot daar!
My Etsy shop must be the Most Neglected Webshop Evah at the moment, but with a child, a business and other daily preoccupations I simply can't fit in any sewing currently. But since our child's wardrobe is starting to get filled with panda-themed clothes, I did get inspired to redesign Little Bear into Little Panda. I feel like making a couple more, so if you like him and want to order one, you can send me an email at info[at]ohmarie.nl. There's a super strong magnet in the back of its neck, so it sticks to all kinds of surfaces. (Like the hood of your car, the back of the refridgerator or a locker. xD). Price per panda is € 25,- exclusive shipping costs.
Tomorrow I will be joining Anki's blogger team at the Dutch Design Bloggers café. I reluctantly admit I never visited the DDW before, so I can hardly wait to see all the design goodness that's there to be seen. Maybe I'll see you there!
https://www.ohmarie.nl/wp-content/uploads/2016/10/logoohmariehr.jpg
0
0
Marlous
https://www.ohmarie.nl/wp-content/uploads/2016/10/logoohmariehr.jpg
Marlous
2014-10-22 11:12:33
2015-03-10 15:18:47
A tiny giant panda