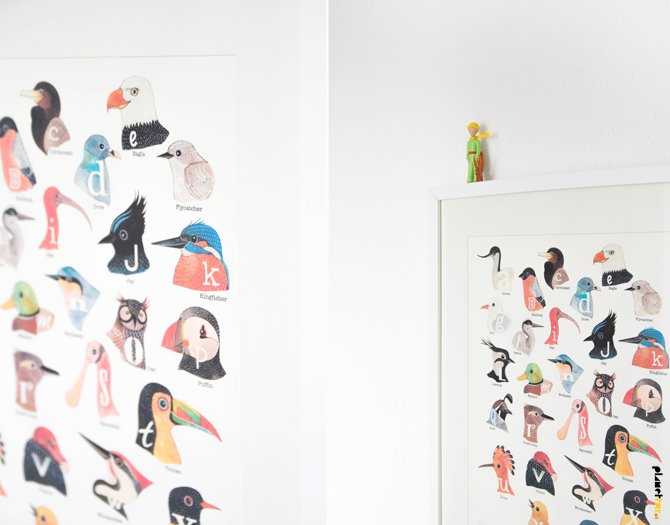 Deze print van Geninne moet een van de eerste items op Etsy zijn geweest die ik bij mijn favorieten heb gezet. Tegen de tijd dat ik besloot dat ik 'm écht heel graag wilde bezitten was ie uitverkocht (misschien dat die laatste factor de begeerte alleen maar vergroot heeft!) en kwam ie ook niet meer terug in de shop. Tenminste, niet tot afgelopen herfst. Ik zat te wachten voor de eerste echo van ons kindje toen ik op Instagram (hoe doodden wij in hemelsnaam de tijd toen er nog geen Instagram was, mensen?!) zag dat Geninne haar ABC of birds weer in haar winkel had gezet. Ik kocht 'm direct, daar in die wachtruimte. En kan daarbij ook bevestigen dat het verraderlijk makkelijk is om iets met je Smartphone op Etsy te kopen. Direct vergeten deze informatie, veel te gevaarlijk.
Ik hou van deze vogels. Regelmatig kies ik mijn favoriete vogel van de dag uit en grappig genoeg is dat heel vaak de gier. Hij ziet er namelijk bozig uit, maar stiekem, als je goed kijkt, kijkt ie heel vriendelijk. En hij kan er natuurlijk ook niets aan doen dat ie zo'n onaangenaam imago heeft in de vogelwereld, toch? Hij is een beetje de Severus Sneep onder de vogels. Ons kindje zal dus waarschijnlijk eerder de Engelse namen van deze vogels kennen dan de Nederlandse. En zal, als ie wat groter is, in onze tuin op zoek gaan naar gieren, papegaaiduikers en kwartels. Maar dat draagt alleen maar bij aan de magie van zijn of haar kinderwereld. Precies zoals de wereld van een kind eruit moet zien, toch?
This print by Geninne must be one of the first items I ever hearted on Etsy. Too bad it was sold out by the time I realised how much I wanted to own it (maybe because it was sold out!) and it never returned to her shop. At least, not until last fall. I was waiting to get the first ultrasound of our baby and checking my Instagram feed (oo, how did we ever kill time when there was no Instagram, people?) when I learned that Geninne added her ABC of birds to her shop again. I bought it there and then, in that waiting room. I can also confirm that it's treacherously easy to purchase something with your Smartphone on Etsy…please forget the latter immediately. It's dangerous information.

I love these birds. I often pick my favourite bird of the day. Funny enough, it's often the vulture that I love most. He looks like he's a bad guy, but if you take a good second look, he has quite a friendly face. And he can't help vultures have such a bad name amongst their fellow feathered friends, can he? Our child will probably know the English names of these birds much sooner than their Dutch names. And will probably go look for vultures, puffins and quails in our back garden when it's a bit older. But then again, isn't a world filled with imaginary creatures exactly how a child's world should look like?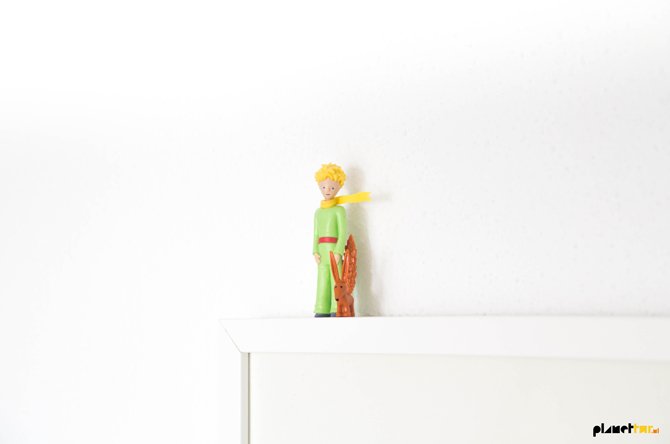 https://www.ohmarie.nl/wp-content/uploads/2016/10/logoohmariehr.jpg
0
0
Marlous
https://www.ohmarie.nl/wp-content/uploads/2016/10/logoohmariehr.jpg
Marlous
2014-01-06 14:52:00
2015-03-10 15:20:44
The Severus Sneep among birds