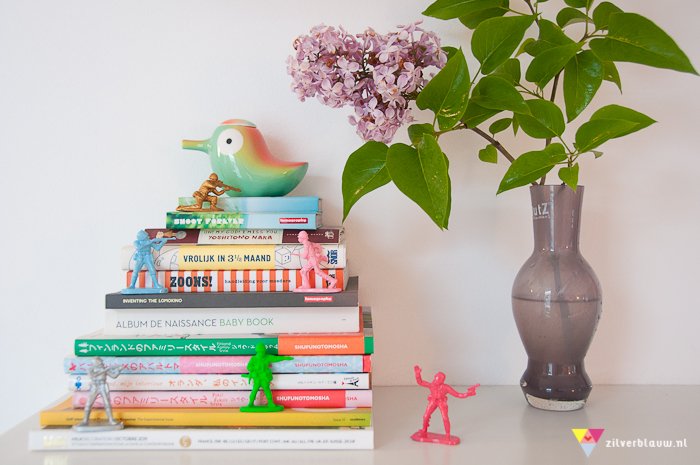 Anki is maatschappelijk werkster, zangeres, begenadigd blogger, speelt met haar lief Casper vadertje en moedertje met twee hun twee zoons en dat allemaal in 7 dagen per week met maar 24 uren in een dag. Ik sta er versteld van hoe ze het voor elkaar krijgt, aangezien ik slechts op de helft van dit rijtje zit en af en toe al wil gillen "of iedereen me nu-even-met-rust-wil-laten!!". Stressbeheersing is echter niet het onderwerp van dit blog (gelukkig maar), dus over naar het gedeelte "begenadigd blogger". Anki blogt om niet te vergeten hoe mooi het leven is en dat straalt af van iedere foto die ze maakt, of het nu van haar huis, een nieuwe (interieur) aankoop, haar mannen of een simpele boterham (ja echt!) is. Alle (vruchteloze) steel-de-stijl pogingen ten spijt: er is maar één echte Zilverblauw stijl en dat is degene die Anki (fijn genoeg) deelt op haar weblog. Daarnaast hangt Anki het veel-kleur-in-je-interieur-geloof aan, wat ik als kleurverslaafde ook bijzonder kan waarderen.
Anki heeft een hele mooie reportage gemaakt voor het eerste nummer van Oh Marie! En het goede nieuws is: over een week kan je het zelf bewonderen. Nog één week voor de launch!
Anki works as a social worker, creative entrepeneur at weekends and evenings, blogs on a very regular basis, is (the hip) mother of two lovely boys and love of Casper. Has, like every other human being, only 24 hours in a day, but manages to outshine in every role she plays. I don't know how she does it, since I manage to do only half of it and still have a tendency to scream "Leave me alone!!" for about ten times of the week. Lucky for me, this blog isn't about stress, but about creativity, so let's skip the stress part and get over to the blogging part. Anki started blogging to remind herself how beautiful life is. Every picture she takes has that exeptional 'wonderful life'' feeling, whether it's a picture of her home, a great interior find, a picture of one of her men or a sandwich (yes, that's right!). Attempts to imitate her style are all in vain, that special Zilverblauw style that Anki so kindly shares with us on her blog is one of a kind and unique. On top of all this, Anki has a special liking for bright and happy colours, a preference I very much appreciate as a fellow colour addict!
Anki made a beautiful article for the first issue of Oh Marie! And the good news is: it's only a one week wait 'till the launch!