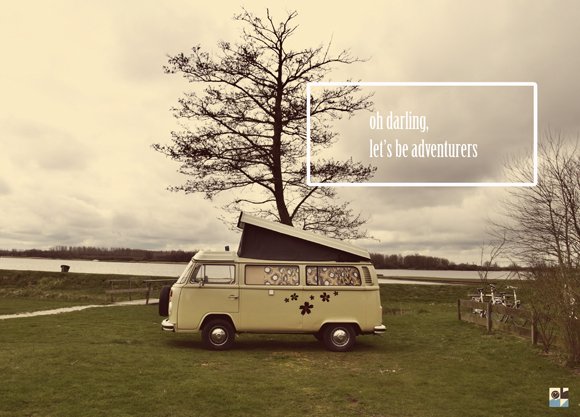 De zon schijnt als je met de Sandy Coast op stap bent. Of het nu komt door de fles Californische wijn die voor je klaarstaat of de oranje gordijntjes waar het ochtendlicht doorheen valt: het leven in deze Volkswagen Westfalia camper uit 1973 is een warm genoegen.
De wereld ligt voor je open, de natuur lonkt. Alle zorgen zijn vergeten; je waant je in een andere tijd. Ons volledige (foto)verslag volgt in de volgende Oh Marie! (22 juni). Kun je niet wachten? Trakteer jezelf dan op een tripje met de Sandy Coast of Little Miss Sunshine. Ga op retro camperavontuur! Wij mijmeren nog even door over de heerlijke zelfgebrouwen koffie en de gezellige oranje skai bekleding…
The sun always shines when you're on the road with Sandy Coast. Whether by the complimentary bottle of Californian wine or the morning sun that shines through the orange curtains: life in the 1973 Volkswagen Westfalia camper is a true delight. Put your troubles aside: the road calls, there's a whole new world to discover.
Read the full report of our trip with a vintage camper in the upcoming issue (publish date June 22) or, if you can't wait for that, treat yourself with your own vintage camper trip with Sandy Coast or Little Miss Sunshine. In the meantime, we'll be daydreaming a bit more about self-brewed coffee and cosy orange skai upholstery…